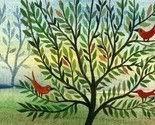 Quotes and a Verse on Trees

" ...let the fields be jubilant, and everything in them. Then all the trees
of the forest will sing for joy; they will sing before the Lord."

- Psalm 96:12-13
<><
"God is the experience of looking at a tree and saying, 'Ah!'"

- Joseph Campbell

()

"The tree which moves some to tears of joy is in the eyes of others
only a green thing which stands in their way."

- William Blake

()

"I frequently tramped eight or ten miles through the deepest snow
to keep an appointment with a beech-tree, or a yellow birch,
or an old acquaintance among the pines."

- Henry David Thoreau

()

"Keep a green tree in your heart and perhaps
a singing bird will come."

- A Chinese Proverb
()

"I like trees because they seem more resigned to the way
they have to live than other things do."

- Willa Cather
()

"Do not be afraid to go out on a limb... That's where the fruit is."

- Author Unknown

()

"I'd like to go by climbing a birch tree, and climb black
branches up a snow-white trunk. Toward heaven, till the tree
could bear no more, but dipped its top and set me down again.
That would be good both going and coming back.
One could do worse than be a swinger of birches."

- Robert Frost

()

"Breeze is the conductor, trees the musicians,
leaves the instruments."

- Nathaniel LeTonnerre
()

"I love a crooked tree more than I hate a crooked man."

- Frank Kramer
()

"A man has made at least a start on discovering the meaning
of human life when he plants shade trees under which he knows
full well he will never sit."

- Elton Trueblood

()

"Trees are your best antiques."

- Alexander Smith




()


"As the poet said, 'only God can make a tree' - probably because
it's so hard to figure out how to get the bark on."

- Woody Allen
()

"I think that I shall never see
A poem lovely as a tree.
A tree whose hungry mouth is prest
Against the earth's sweet flowing breast;
A tree that looks at God all day
And lifts her leafy arms to pray;
A tree that may in Summer wear
A nest of robins in her hair;
Upon whose bosom snow has lain;
Who intimately lives with rain.
Poems are made by fools like me,
But only God can make a tree."

- Joyce Kilmer, "Trees", 1914