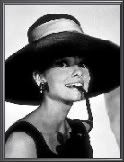 Audrey Hepburn Quotes
"Living is like tearing through a museum. Not until later do you really
start absorbing what you saw, thinking about it, looking it up in a book,
and remembering - because you can't take it in all at once."
"Paris is always a good idea."
"If I get married, I want to be very married."
"Remember, if you ever need a helping hand, it's at the end of your arm.
As you get older, remember you have another hand. The first is to help
yourself, the second is to help others."
"It's that wonderful old-fashioned idea that others come first and
you come second. This was the whole ethic by which I was brought up.
Others matter more than you do, so 'don't fuss, dear; get on with it.'"
"If I'm honest I have to tell you I still read
fairy-tales and I like them best of all."
"I believe in manicures. I believe in overdressing. I believe in primping at
leisure and wearing lipstick. I believe in pink. I believe that laughing is
the best calorie burner. I believe happy girls are the prettiest girls...
I believe in being strong when everything seems to be going wrong.
I believe that tomorrow is another day and I believe in miracles."
"For beautiful eyes, look for the good in others; for beautiful lips,
speak only words of kindness; and for poise, walk with the knowledge
that you are never alone."
"People even more than things, have to be restored, renewed,
revived, reclaimed, and redeemed; never throw out anyone."
"I never thought I'd land in pictures with a face like mine."